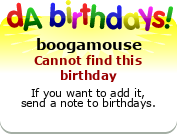 Hannah | Female | 18 years old | Birthday 25 November

Hello there!
I am the average teenager striving to become a better artist. I draw any sort of non-fantasy animal and do all my art digitally on Paint Tool SAI with my beloved bamboo tablet. I first discovered digital drawing in 2009 before getting a tablet in November 2012.
My main language is English, so I wouldn't recommend attempting to talk to me in any other language!
I love any kind of animal and therefore made a choice to have a pescetarian diet (I eat seafood but no other kind of 'meat'). Ever since I was young I've been helping my grandfather with raising and rehabilitating injured/baby birds and I'm slowly taking over from the hobby and making plans to go bigger with our little sanctuary.
Aside from all our birds in the process of rehabilitation , I have other things like chickens, ducks, dogs, mice, rats, tarantulas, MY PARROT <3 and snakes (currently I have 8).
I'm also a very enthusiastic equestrian and I have become rather competitive in polocrosse.
I've always been big into roleplaying and first began on a Warrior Cat website in 2011.
I may come off as outgoing but tbh I'm a shy weirdo.
I always try my best to reply to every comment, watch and return every llama, but even if I don't, please know that I generously appreciate every form of support!
Commission Prices:
fav.me/d89sah6
MY
PAYPAL COMMISSIONS
ARE CLOSED
MY
POINT COMMISSIONS
ARE CLOSED
ASK ME ABOUT
ART TRADES.
I MAY SAY YES
ASK ME ABOUT
COLLABORATIONS
I DON'T DO
REQUESTSTo do list
---
Art that I'm expecting from others
--
Honored to be watched by ;;
ClimbToTheStars
-
SpitfiresOnIce
-
Finchwing
-
StupidRainbowFox
-
Iwun
-
KalmaKamala
-
LLoryZ
-
ulv-f
-
QuietLittleLeaf
-
MoonsongWolf
- And some others that I'll be adding at a later stage!
Please don't be afraid to approach me! I love meeting new people!